B2B World is Ready for Big Data?
By Jeans Cai, Head Of Information Technology, DHL Global Forwarding Greater China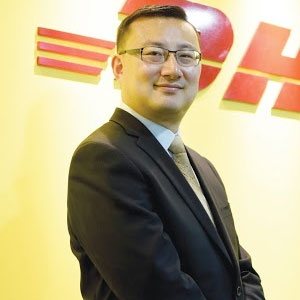 Jeans Cai, Head Of Information Technology, DHL Global Forwarding Greater China
In current China B2B world, it already been influenced by "have it your way" consumer experiences. Most of service provider takes the same concept from Taobao. Actually, it is also the fundamental of big data story what we heard. Digital images, segment selling, precisely target customer etc is the hot topic mentioned by most of media. It also proved by retail or internet+ industries with a lot successful stories.
Everyone has become exciting and stirring. In office, in meeting, in summit, in lunch conversation, "how can we start the big data exercise?" is the popular question to the IT person on the table. Most of IT people just answer, "Yes, we need to do it. However, how can we start it? Any idea you have?" Then the answer and questioner look each other and shrug the shoulder, no answer, no action. It repeats the interaction over the China. Why? Most of the business people asking it. In my view, B2B world is not ready for big data yet. The reasons are:
1. Difficult to gain visible return in short time
2. Data model is different
3. Scale production has different DNA with big data model
In traditional B2B world, cash is king. Nevertheless, the cash flow period is much longer compared with retail and B2C business. Thus, how to measure the big data project in short term will be a challenge. In B2B practice, most of the contracts are signed annually or even longer. How to measure the improvement caused by big data project outcome? Too many factors make the complex impact to the final decision.
Current big data solution can't simulate all the factors at same time. Data model is extremely different between B2B and B2C.
Almost one century before, B2B business was boosted by scale production

Digital image used by B2C world several years, but I did not see any article talk about B2B customer digital image yet. Because B2B customers are not a person, they are a team. Even a small B2B company, it's still not simply price driven like B2C. Service quality, credit terms, long-term partnership … too many factors build up the B2B data model more complex than B2C data model.

Almost one century before, B2B business was boosted by scale production. However, it was against the "have it in your way" model. The DNA is very different. Scale production requests standard process, standard procedure, standard model, standard material, and spare parts to improve productivity. New Internet + model request the on demanding changes. Every month will have a new product/new service, upgraded service by weekly, by day even hours. It brings a big challenge to traditional B2B company that will change the existing organization/mindset even core competence and cultures to compliance with the new model. Move back to IT view, it means a lot of the system needs to be changed. It is like waterfall development vs. agile development. It is not an easy way for changing. The entire mindset should change first.

Then what the B2B business firms IT should do to prepare now? Improving Data Quality is the first important thing. With China's growth in the past 20 years, the basic system is already built-up and huge original data is stored in database server. The challenge now is no one knows whether the data is qualified. I still remember how IT fought with Y2K in 1999. The data qualification is not the focus in last century in China, data have or have not is the key measurement. Even now, some China company still have a lot of testing data stored in production database server because no testing environment is setup due to cost saving. For big data topic, the fundamental thing is data, if the data quality cannot be controlled and kept stable, we can image how the worst outcome may have.

The second thing I would suggest to do is clean up historical system business logical. In our data warehouse, most of the data is come from legacy system in the past 20 years. We need to clean up those data because some of them are not collected from real data but calculated from legacy system based on legacy business logical 10 or 20 years ago. Those data should be distinguished with real row material data and need to be filtered by existing business logical to make sure the data quality is stable.

Before we have a consistent row material data pool with the senior management team, a big data mindset built up, I don't' think B2B world is ready for big data.
See Also:
Top Big Data Solution Companies